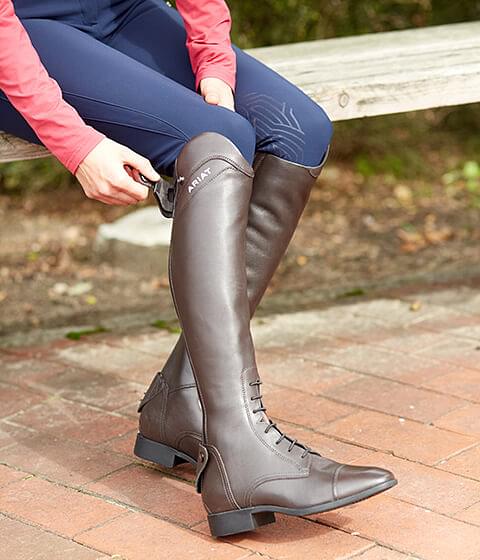 Ariat Riding Boots
Tall & short riding boots for Women, Men & Kids
Shop Now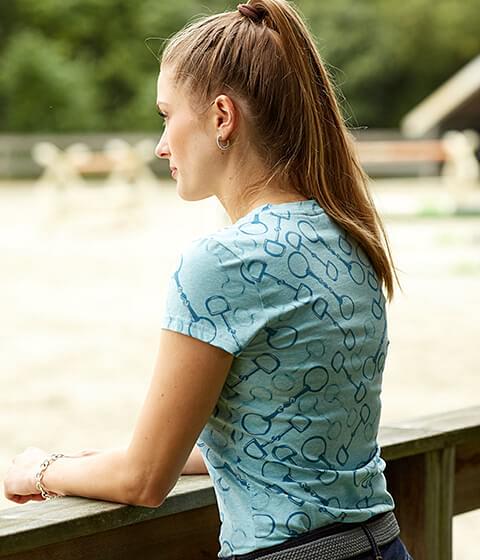 Ariat Tops
Your favourite tees and polos for the new season
Shop Now
---
Ariat Top Picks
When it comes to Equestrian Clothing there are few that have gained such a large and loyal fan base as Ariat. For over 25 years Ariat has been an industry leader in producing high quality, stylish and long-lasting Equestrian apparel for competitive and leisure Horse Riders alike. At Chelford Farm Supplies, Cheshire, we're proud to be leading UK stockist of Equestrian and Country Cothing, as well as Country Boots and Riding Boots. Our huge range is one of the largest not only in Cheshire, but in the United Kingdom too!
The Ariat UK collection has been designed with Rider's comfort and performance in mind, and utilises the very best in fabric technology to create stunning Jackets, Tops and Breeches that not only look stylish and slick, but help you perform at your best while in the saddle.
The Ariat Breeches collection has something for every type of rider and every kind of weather! Don't let the chilly weather during the winter months put you off riding… stay cosy in Ariat's range of fleece-lined and insulated breeches and riding tights, specifically crafted by Ariat to retain heat and keep you warm on even the most bitterly cold of winter days. Summer heatwave? No problem! Ariat's innovative moisture movement technology is used across the spring/summer collection and helps to regulate your body temperature by wicking away moisture from the skin, keeping you cool on the hottest days in the saddle. Each pair of Ariat Breeches also features Ariat's grip technology, ensuring you have that extra stickability during those 'oops' moments!
And it's not just Ariat's riding legwear range that features this industry-leading heat and comfort technology; Ariat's range of Lowell, Sunstopper, Tri Factor and Baselayer tops are on-trend Equestrian clothing that have been designed to help regulate body temperature and allow for maximum movement and optimum comfort. Not only that, but these stunning tops come in a huge array of colours, making them ideal for completing your xc colours! Our extensive range of Ariat Jackets are the perfect layers for completing your Equestrian wardrobe; from padded Jackets to lightweight quilted layers to technical softshell Jackets and the iconic Ariat Ideal Down Gilets and Jackets, our huge range has them all!
If you're looking for a treat for your feet, the Ariat Footwear collection features Country Boots, Riding Boots, Jodhpur Boots and more for Women, Men and Children. At Chelford Farm Supplies we stock of a huge range of Ariat Footwear, including Ariat Country Boots that are perfect for the stables, walking the dog, or even popping to your local country pub! Our large selection of Ariat Boots includes iconic styles such as the Ariat Coniston, Grasmere, Berwick and Windermere, as well as the Chelsea-style Wexford Boot.
The Ariat Riding Boots collection includes beautifully-made quality riding boots for both competitive and leisure Horse Riders. From the classic Bromont Insulated Riding Boot to the stylish Ariat Heritage Riding Boots, the range of Ariat Riding Boots is sure to help you put your best foot forward whether you're hacking, jumping or schooling.
Browse our extensive range of Ariat online, or visit our Saddlery and Country Store located in the heart of Cheshire to see our selection of striking and stunning Ariat Clothing, Jackets, Breeches, Tops, Country Boots, Riding Boots and more!