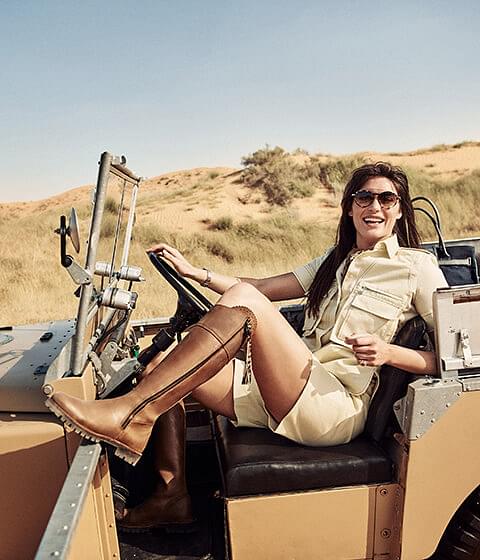 Explorer Boots
Your favourite boots are back in town
Shop Now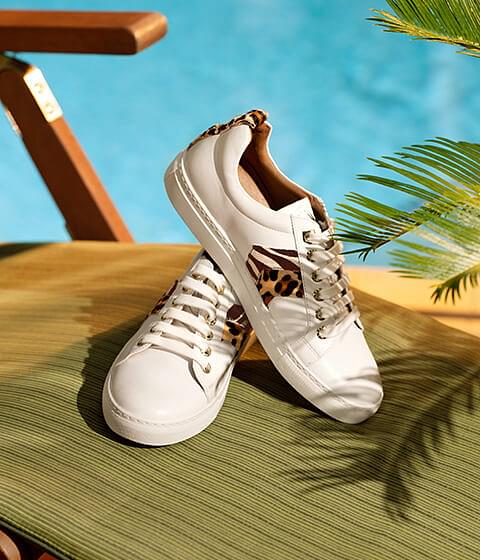 Alexandra Trainers
Hit the streets in comfort and style
Shop Now
---
Fairfax & Favor Favourites
Fairfax & Favor Must Haves
Born in 2013, Fairfax & Favor is the brainchild of two childhood friends Marcus Fairfax Fountaine and Felix Favor Parker. In less than a decade, F&F has grown into a multi-award-winning brand that's become synonymous with English Country and Equestrian style.
Our extensive Fairfax and Favor Boots range includes the iconic Regina Suede Boot, over the knee Amira Boot,Fairfax & Favor fan favourite Boot – the new Imperial Explorer and a whole range of short Boots, including Chelsea Boot, Regina Boot and Desert Boot.
If Handbags are your thing, we have a huge collection that is sure to suit the most discerning Handbag lover. From the classic Fairfax & Favor Windsor Handbag to the sleek and stylish Finsbury Cross Body Bag. There's something for every occasion! 
For the ultimate fan of this classic English country brand, we also stock a great range of Accessories to help keep your Fairfax & Favor products looking their best! Maintain and care for your suede Boots, Shoes and Handbags with the Fairfax & Favor Suede & Nubuck Protector, and add a touch of colour and customisation with the Fairfax and Favor Boot Tassels. Complete your outfit with a suede Fairfax & Favor belt!
Our beautiful range of Fairfax & Favor Boots, Handbags and Accessories are the perfect treat for yourself or a gift for a loved one! 
From the classic Regina to the stylish Amira and everything in between, our selection of on-trend yet timeless Boots are perfect for Country Events, spending the day around town or even a big night out in the City. When the weather turns a little chilly the Fairfax & Favor Sheepskin Boudica Chelsea Boots are the perfect country boots for staying warm and dry in style!
Are you receiving a blue box treat in time for summer? Nothing quite says summer like a pair of wedges and the Fairfax & Favor Monaco Suede Espadrilleswill complement any summer line-up with a high wedge for instant style. If you're into flats the Brancaster Suede Sandals are for you. These criss-cross sandals will quickly become your go-to summer staple and will walk you straight into summer!
Do you prefer to walk on the wild side with Fairfax & Favour seasonal prints including, Jaguar, Zebra and Cow Hide? The collection includes matching Mini Windsor handbags, Salisbury Purse, Henley Driving Shoes, Sennowe Belt and Boot Tassels. 
Looking for that perfect piece to accompany your Fairfax and Favour Boots? Our stunning range of Fairfax & Favor Handbags are ideal for all seasons and occasions. The Finsbury Cross Body Bag will effortlessly take you from a catch-up coffee with the girls to a night on the town with a detachable gold chain the Finsbury can be worn as a clutch, shoulder or crossbody bag. Complement your collection with the classic Windsor Handbag, and why not add its petite counterpart the Mini Windsor to your Country wardrobe?
Don't forget we also stock a fantastic range of accessories to keep your Fairfax and Favor products looking their best! Accessorise your Fairfax and Favor Boots and Handbag with their tassels, available in a range of colours, and keep your Fairfax products looking fresh out of the box with the Fairfax and Favor Suede and Nubuck Protector.
Browse our range of Fairfax and Favor UK Boots, Handbags and Accessories online, or pop into our Horse and Country Store, conveniently located in the heart of Cheshire, to see the collection in full!